Low power, reconfigurable, high-performance. FPGA silicon platforms for the mainstream market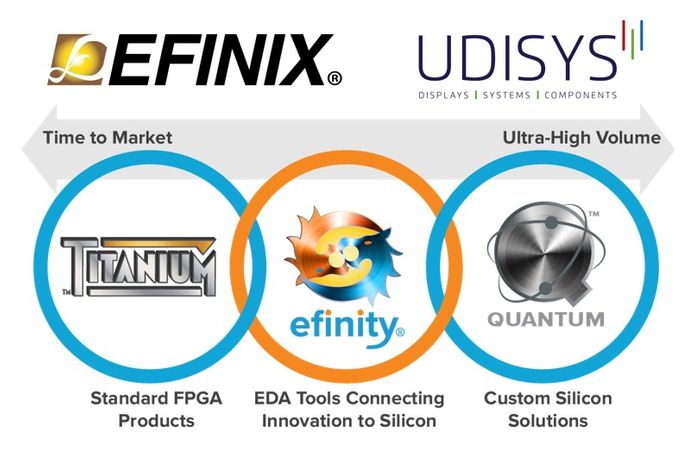 Low power, reconfigurable, high-performance.FPGA silicon platforms for the mainstream market
The Efinix® Quantum™ fabric has at its heart a reconfigurable logic element that can be used as either a logic or routing resource. When designed into an FPGA, the result is the elimination of wasted silicon and an area efficiency of up to 4X when compared to traditional FPGA architectures. Efinix FPGAs feature the Quantum fabric along with select hardened interfaces such as MIPI D-PHY or CSI-2 controllers and DDR DRAM for further improvements in silicon efficiency. Efinix offer two families of products, Trion® and Titanium.
Efinix FPGAs have been widely adopted in a broad spectrum of applications from consumer electronics to edge compute, from AI image processing to industrial automation. They have a cost structure that can be used in high volume manufacturing, speeding time to market and eliminating financial and resource risks associated with designing custom ASICs. The devices themselves are low power making them a natural fit for demanding environmental conditions such as in surveillance or industrial automation applications.
The initial phase of the Trion platform is built on SMIC's 40LL process, with a logic density range from 4K to 120K logic elements (LEs) and standard interfaces such as GPIO, PLLs, oscillators, MIPI, DDR, LVDS, etc.
With the high-performance Titanium FPGA family, Efinix combines an advanced Quantum compute fabric with high-speed interfaces such as high-speed I/O, PCI Express, and Serdes.
Come and meet the UDISYS team on stand N33 to discuss the range of Efinix solutions and how they can be integrated into your projects.