04 Apr 2022
Flexible, versatile and customisable connectivity solutions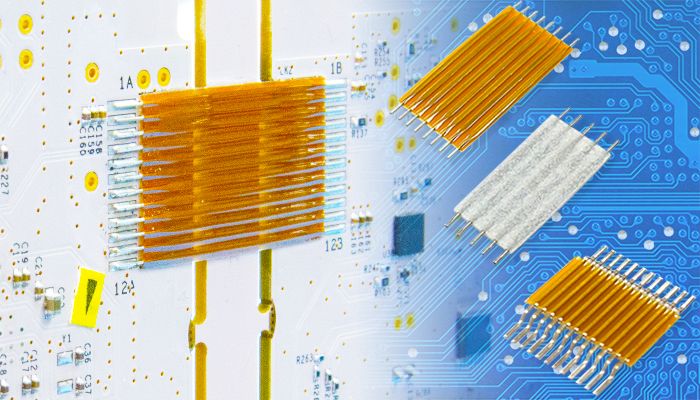 Flexible jumper strips are the ideal solution for connecting PCBs in high vibrations applications or where adjoining PCBs are at unusual angles.
Flexible jumper strips are a mature technology but are still extremely popular with design engineers according to Maciej Gluzniewicz, Connector Specialist at GTK UK.
"Flexible jumper strips offer OEMs an extremely versatile and cost-effective method of connecting two PCBs and can tolerate repeated flexing," said Maciej. "This connectivity solution is ideal for connecting PCBs in high vibration applications, or where adjoining PCBs are sandwiched together or are located at unusual angles. OEMs can choose the size, pitch, mounting style and insulation material to suit their specific application. I think it is this level of versatility and customisation that has resulted in the longevity of this connector technology."
GTK supplies through-hole jumper strips in a variety of pitches including 1.27 mm, 2.0 mm, 2.54 mm and 3.5 mm, with mixed pitch jumpers available if needed. Strips can have up to eighty conductors, dependent on the connector pitch. The jumpers are designed in a round-to-flat construction which results in an even distribution of stress over the entire flexing area. The jumper strips are typically used for permanent PCB connections but can be mated with PCB connectors if a disconnect option is needed. Different insulation options are available including: Kapton, Polyester, Nomex or Teflon to suit different end use environments. The conductors don't require any wire stripping and are ready for through-hole insertion and soldering.
The surface mount jumper strips are supplied with 0.5 mm or 0.93 mm pitch and are available with up to 50 conductors. They are constructed with tin-plated contacts and are insulated with Kapton material for reflow soldering. These SMT connectors are supplied on tape and reel and are auto pick and place compatible.
Maciej commented, "The versatility of this technology makes it ideal for a variety of different applications and our technical experts can help OEMs with the design and customisation of their flexible jumper strips."
Find out more: https://www.gtk.co.uk/products/connectors/board-to-board/flexible-jumper-strips